Emergency food bars are a valuable and incredible companion for individuals planning to travel for a few days in areas lacking easy access to food resources. Unlike other foods for long-term storage in your home, emergency food bars are small and easy to store in a backpack.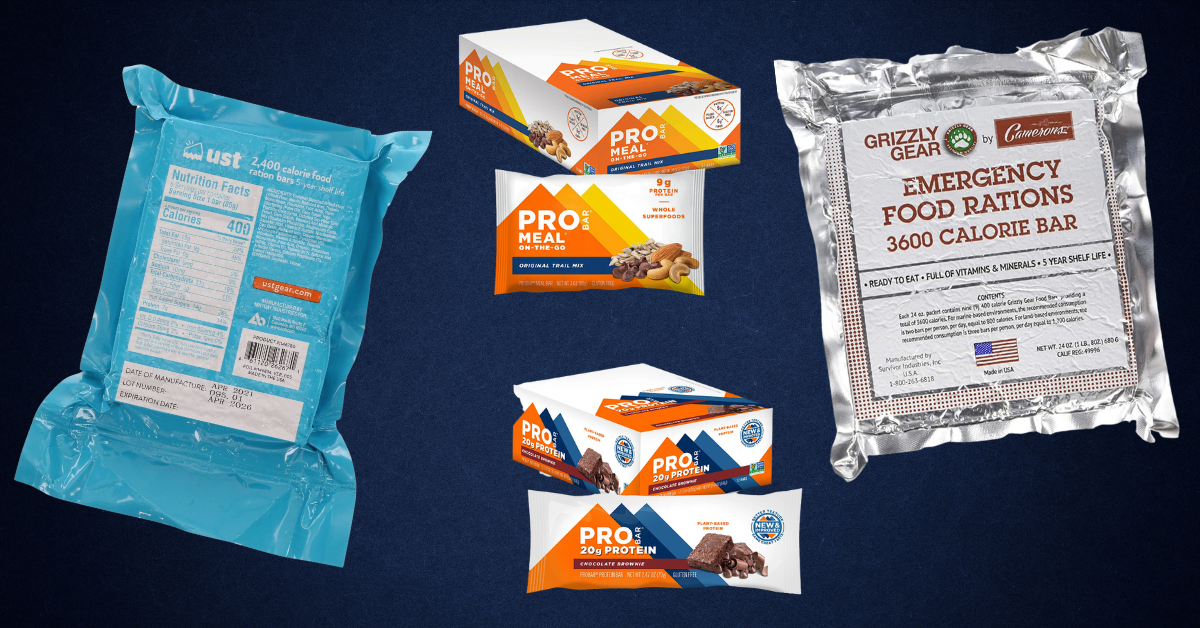 These food bars also don't need cooking because they are ready to consume. Additionally, their density in terms of nutrients and calories makes them easy to share among many people. This efficient and incredible energy source helps with effective body functioning until you locate another food source.
The following article will give an in-depth review of the best emergency food bars one can purchase. We'll compare these products based on different aspects such as size, shelf life, flavor, and caloric and nutrient density, among many others. Keep reading to find out more.
Our Top Picks
Best Overall: Ultimate Survival Technologies, Emergency Food Rations
Best Lower Sugar: Grizzly Gear Emergency Food Rations
Best Plant-Based: PROBAR – Meal Bar 12 Flavor Variety Pack
Best Coast-Guard Approved: Shield Safety – 3600 Calorie Survival Food Bars
Best Flavor Assortment: Freccia Rossa Market Millennium Energy Bars
Best for Kids: Millennium Assorted Energy Bars by S.O.S. Food Labs (6 Count)
---
Ultimate Survival Technologies
Apple cinnamon flavor

Weight of 18 ounces per bar

Six servings per bar

2,400 calories per bar

Shelf life of 5 years

Soy and wheat allergens
This is a ready-to-eat bar that comes with all the necessities.
From the features mentioned above, it has enough calories to give you the energy you need (2,400 calories per packet). The energy bar also has a long shelf life, so you don't have to worry about expiration.
Also, according to the manufacturer, this emergency food bar is ideal for keeping in your survival kit, shelter-in-place kit, or backpack.
Additionally, the bars are manufactured with a vacuum seal and are great to incorporate into your emergency supplies. Also, since they come in silver and orange packaging, it's easy to find them in case of a power loss.
Each bar of 3 ounces has 19 grams of fat, 400 calories, 7 grams of protein, 51 grams of carbohydrates, plenty of minerals (calcium and iron), and vitamins.
---
Grizzly Gear Emergency Food Rations
Lemon, vanilla, and blueberry flavor

A weight of 24 ounces

One serving per bar

400calories per bar

A shelf life of 5 years

Allergens of soy, wheat, and coconut
The Grizzly Gear Emergency Food Rations come packaged in a minimal design. However, its bars have enough nutrient density to make up for the minimal packaging.
Each pack comes packaged with nine 400-calorie bars, which is fairly enough to last an individual for three days. The bars are also manufactured with a protective seal to withstand any conditions.
The food bars also have a shelf life of 5 years, so they can serve you for quite a long time. The different flavors of vanilla, blueberry, and lemon also give you options depending on your needs.
Each serving of this food bar has 21 grams of fat, 6 grams of protein, 46 grams of carbohydrates, 12 grams of sugar, and plenty of minerals and vitamins.
---
PROBAR - Meal Bar
Assorted flavor

A weight of 3 ounces per bar

Two servings per bar

370-410 calories per bar

12 months shelf life

Allergens of tree nuts, coconut, and peanut
The PROBAR meal bar is a soy-free, non-GMO, and gluten-free survival food.
It comes in different and appealing flavors like whole berry blast, peanut butter chocolate chip, and banana nut bread, so that everyone will find a nice option according to their preference.
The amount of these contents will differ depending on the flavor.
---
Shield Safety
Apple, cinnamon flavor

A weight of 27 ounces per bar

3600 calories per bar

Nine servings per bar

A shelf life of 5 years

Allergens of soy and wheat
These food bars are also good for emergencies since the U.S. Coast Guard approves them. Each bar has 400 calories, 7 grams of protein, 19 grams of fat, 51 grams of carbohydrates, and incredible minerals and vitamins.
These survival food bars also have a 5-year shelf life, so you don't need to restock often. They are also fun to eat since they taste like shortbread cookies.
---
Freccia Rossa Market
Assorted flavor

One serving per bar

A weight of 2.95 ounces

400 calories per bar

A shelf life of 5 years

Allergens of coconut, wheat, and soy
During an emergency or survival situation, the last thing you would want to prioritize is food flavor, since your main aim is to survive.
However, having different options to spice things up and switch things up is a good idea that won't hurt.
The Freccia Rossa emergency bars come in various flavors, such as mixed berry, orange, cherry, tropical fruit, and lemon flavor, among many others. Purchasing the different flavors is exciting; you won't get bored consuming one flavor type.
These food bars also come with a 5-year shelf life, so you don't have to worry about frequent purchases. If you're also concerned about spoilage in the event of extreme circumstances, worry no more, as these food bars incorporate vacuum-sealed, BPA-free packaging.
Each bar has more than 400 calories. You also get a survival booklet as a bonus when you purchase a ration bar from this variety pack.
---
Millennium Assorted Energy Bars
Lemon, cherry, orange, tropical fruit, and raspberry-flavored bars

A 5-year shelf life

Mylar vacuum packaging

400 calories per bar
S.O.S. manufactured this Millennium Series of emergency bars for individuals who worry about food taste. Their food and snack bars are an incredible option for kids since they come in various flavors that kids can enjoy.
These emergency food bars are also non-perishable, and their flavors won't be lost over time thanks to Mylar vacuum packaging. This type of packaging can withstand damage from extreme heat and cold.
This durability makes these food bars an incredible option for boating, camping, hunting, and hiking. They are also an ideal meal replacement alternative when planning for food shortages and natural disasters.
---
Advantages of Emergency Food Bars
Emergency food bars have many benefits for those who wish to use them in emergencies.
Firstly, these food bars offer much energy in a small package since they're extremely calorie dense. As such, you'll be able to save on space since the small packs give you the energy you need.
The other benefit of survival food bars is that they don't provoke thirst. In addition, individuals don't need water to digest and prepare the food bars. These two elements are crucial, especially in emergencies where water access becomes insufficient.
Who Needs To Carry Emergency Food Bars?
Emergency food bars are the perfect way to keep your survival kits stocked with nutritious and tasty sustenance.
Everyone needs to eat since food is very crucial for our bodies. Therefore, ration bars are ideal since these foods are inexpensive, don't need any preparation, and are these emergency ration bars are effective and suitable for providing calories and nutrition in all emergencies, situations, and disasters.
Emergency food bars are a crucial aspect of the following kits:
Bug Out Bag (BOB)
Get Home Bag (GHB)
In-Place Survival Kit
Survival food bars are also crucial to Every Day Carry (EDC) kits. Therefore, no matter the type of threats you face, emergency food bars are crucial to assist you in taking care of a survival situation.
How Can Individuals Use Emergency Food Bars?
With survival food bars, you can have essential nutrition and energy no matter where life takes you—even when faced with obstacles or emergencies.
Individuals don't need to replace their long-term food storage or stock these food bars for in-place kits. The best option is to set aside a few packs, depending on the size of the family.
Emergency food bars come pre-portioned, making them ideal for tracking your caloric intake since you can easily separate them depending on how you want to consume them.
These food bars are also formulated to not make people thirsty.
So, eating them dry is the most common way individuals consume them.
However, if you don't enjoy eating these foods dry, you still have other options depending on what you want. For example, you can make porridge by adding water to traditional ration bars.
What to Look For When Purchasing Emergency Food Bars
You must consider crucial aspects when purchasing the best emergency food bars. They include the following:
Caloric density
Value
Shelf life
Nutrition
Texture and taste
Obtaining an appropriate blend of these crucial aspects will enable you to get an unmatched food bar that will assist you in handling almost any situation during a disaster or emergency. Below, we look at all these aspects and what they mean for incredible survival food.
Caloric Density
It's important to consider the volume, weight, and calorie count when packing and preparing food rations for an emergency. Take a look in our Prepping List.
Calories are vital since they offer energy, and in an emergency or survival situation, you'll need more energy than you expect.
Value
The money you spend purchasing emergency food bars shouldn't be that high. Through their design process, these foods are meant to help you survive while on the go. Hopefully, in a survival or emergency situation, you anticipate that movement will be temporary until you find a location with sustainable food sources or long-term storage.
You wouldn't want to input much money into a single item resource, especially the portable food rations. The good thing is that most food ration bars are inexpensive.
The smartest approach you can adopt involves using your money to obtain the most versatility and functionality from your survival kit. You'll always feel good about purchasing something with the best features and high value at a cheaper price.
It won't be necessary to purchase survival food bars often since these items have a long shelf life.
Shelf Life
Shelf life is another important aspect when seeking the best emergency food bars. These food bars are incredibly shelf-stable, potentially providing sustenance for up to five years. However, those manufactured for a while can last up to 50 years when individuals appropriately store them at room temperature.
Be sure to select a shelf life appropriate to your needs.
Nutrition
Calories alone aren't enough for survival; you'll still require nutrients to be on the go. An appropriate blend of carbs, vitamins, minerals, and proteins is crucial to helping you cruise through any disaster. The last thing you wish for is to face starvation, which can lead to organ failure.
Individuals can survive without appropriate nutrients or food, but the effects will be felt much faster due to a poor diet.
Most emergency food bars have enough nutrients to assist you in moving from one point to another. Be sure to incorporate an appropriate long-term food storage solution and a sustainable food plan to make them more effective.
Texture and Taste
Texture and taste are essential aspects to consider when purchasing survival food. These elements impact your mental state since you won't wish to handle a disaster while at the same time choking on food, which you can hardly enjoy.
Nevertheless, while considering texture and taste, be careful not to stock up on a single flavor or taste unless you're sure about them. Variety is good as it spices things up.
Final thoughts
Food rations have indeed greatly shaped the current world. When you do research, you'll find different documents explaining how soldiers won or lost wars depending on how they handled food supplies.
Food is crucial during emergencies, and you can incorporate it to be prepared in numerous ways. Emergency food bars are ideal since they let you be mobile and prepared. They also play a crucial role when thinking about mobile survival kits.
In our Guides & Tips section you can read more about prepping.
Happy eating!
FAQs
In this section, you can find some of the most frequently asked questions about emergency food bars.
What Are Ration Bars?
Ration bars trace their origins back to the 1950s and 1960s, when their first need arose in the military. When soldiers were committed to intense and long battles, the military's job was to drop ration bars from above to help them survive until more soldiers were sent to help.
However, these rations were very expensive and tasted so bad. Because of this, the government opted to contract with private firms to develop better options. These companies started manufacturing food bars with an ideal balance of salt, fats, proteins, carbs, minerals, and vitamins.
Ration bars offer enough essential calories to assist you in surviving well in a prolonged emergency. These survival power bars aren't thirst-provoking since your access to drinking water is minimized during a crisis.
Most individuals in the prepper community invest highly in these bars since they have a long shelf life. In addition, these food bars are always ready to consume since they don't need any preparation, such as boiling.
Nevertheless, it's crucial to remember that these food bars shouldn't replace conventional meals. This is because they are only formulated to provide the calories you might need in a disaster.
Where Can You Safely Store Survival Food Bars?
The shelf life for survival food bars is approximately five years or more. Place these food bars in a cool, dry place to ensure the best and most appropriate storage. You can store most of it at that location, but remember to store a handful in an easily accessible place.
Survival food bars also don't spoil and can withstand extreme temperatures. You can use these features to your advantage to stash the food bars in different locations, such as a bug-out location, an emergency kit, or other ideal areas.
What Are Emergency Food Bars Used For?
Survival food bars can come in handy to help different people in different situations. For instance, it's good to have these emergency food ration bars at hand when hiking, boating, camping, backpacking, and traveling, among many other activities.
What Should You Include In An Emergency Kit?
Besides having enough water and food, you should remember to incorporate other crucial items in an emergency kit, including batteries, flashlights, multipurpose tools, first aid supplies, medications, a radio, blankets, candles, matches, and pet food, if necessary.
What Can You Do With Expired Emergency Food?
As mentioned earlier, survival emergency food ration takes a long time before it expires. However, when these foods pass the "use by" date, they lose their quality. In this case, if you don't want to consume emergency food that doesn't taste good, you can give it to your animals. The most important thing is ensuring the food hasn't gone bad.
How Many Survival Food Bars Should Individuals Store for Emergencies?
The number of food bars you need to store in an emergency depends on your situation. For instance, consider factors such as the number of people depending on you, your budget, and the distance from grocery stores and kiosks.
Most food bars come in blocks of around 3,600 calories. Use this baseline, consider the calamity or threat you're likely to face, and establish how long your family might have to survive without food.
Survival food bars only offer the vital energy you need to survive. Therefore, it's important to supplement them with other food types.