When looking for the best generator oil, one of the most important considerations is finding an oil that works for the conditions where your generator, other motorized tools, and automobiles operate.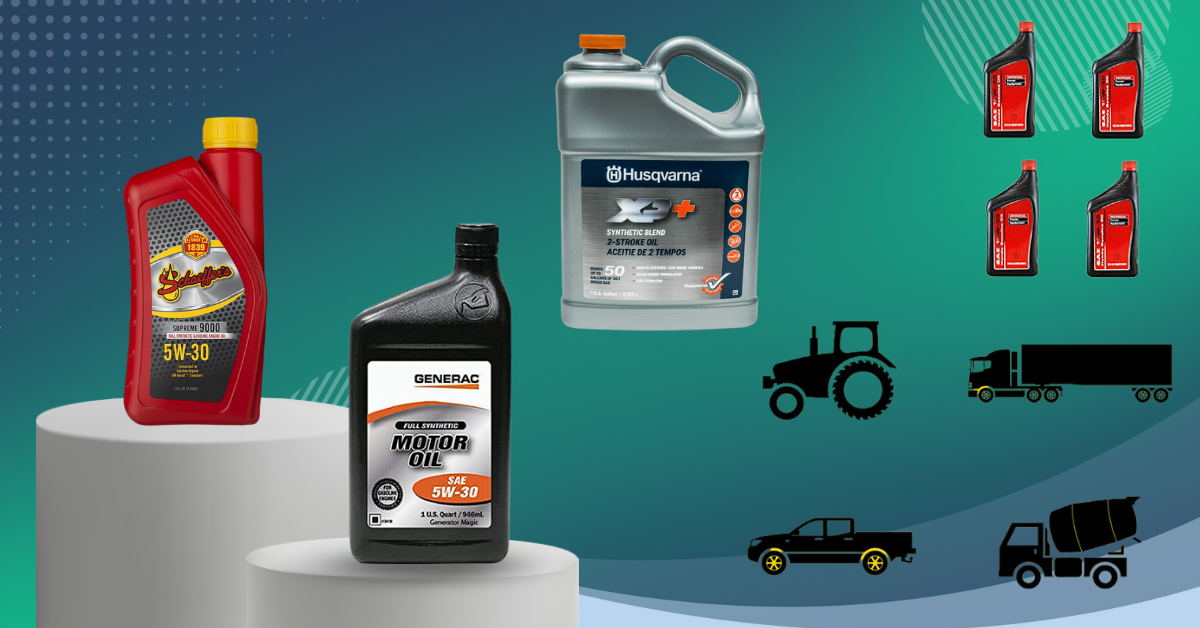 Ideally, you can rely on one type, or a small number, of oils for all your purposes. One oil will reduce confusion and clutter, increase efficiency, and simplify your life.
With so many brands, finding the right oil is a daunting task.
Worry no more.
We have found the best ones and compiled a simple list for you. Keep reading to find the best oil for your needs.
The First Steps
Before worrying about which oil to buy, you need to know which types of oil to avoid.
Consult the Owner's Manual for your generator.
In something similar to the maintenance section of the manual or guide, you will find the manufacturer's recommendations for choosing an oil.
Always take these recommendations seriously because the manufacturer knows if some design element only works optimally if you use a specific type of oil.
Understand Oil Types
If you visit any automotive store or gas station that sells oil, one of the most common types you will see is SAE 10W-30. Your generator will work fine with this type of oil. Many engines and tools work well with SAE 10W-30 oil.
You can find the oil viscosity to use in your generator in the manual. Once you know what your generator needs, you should learn how brands of oil display viscosity.
For example, SAE stands for the Society of Automotive Engineers. The second part gives viscosity information.
Viscosity means how well your oil remains in a liquid, well-lubricating state in various temperatures.
"W" means winter, and the number before the "W" indicates temperature.
The following number tells you how well the oil maintains viscosity up to 100°C or 212°F.
Never make assumptions, based on advice, about which oil to use. Proper care and maintenance should guarantee the most extended life possible for your generator's engine.
The manual with your generator recommends which oil to use so that you do not cause certain parts to experience unnecessary wear and tear.
Understand Temperature Ranges
10W is a code that means -10°F in winter. Winter weather above -10 will allow the oil to pump around and work effectively.
The oil acts like an SAE 30 oil at temperatures above freezing, up to about 90°F. The combined meaning of these two codes tells you that this oil is a jack-of-all-trades that works below freezing and up to summer temperatures that are not extreme.
Being suitable for so many conditions makes SAE 10W-30 oil one of the most common types on the market.
Locations with extreme winters might need a 5W oil which works if temperatures drop as low as -20°F. An SAE 5W-30 oil can handle shallow temperatures and the same highs as 10W-30.
However, you must check your oil levels more often during warmer temperatures with 5W-30. 5W-30 performs better in cold temperatures but burns off faster in hot weather.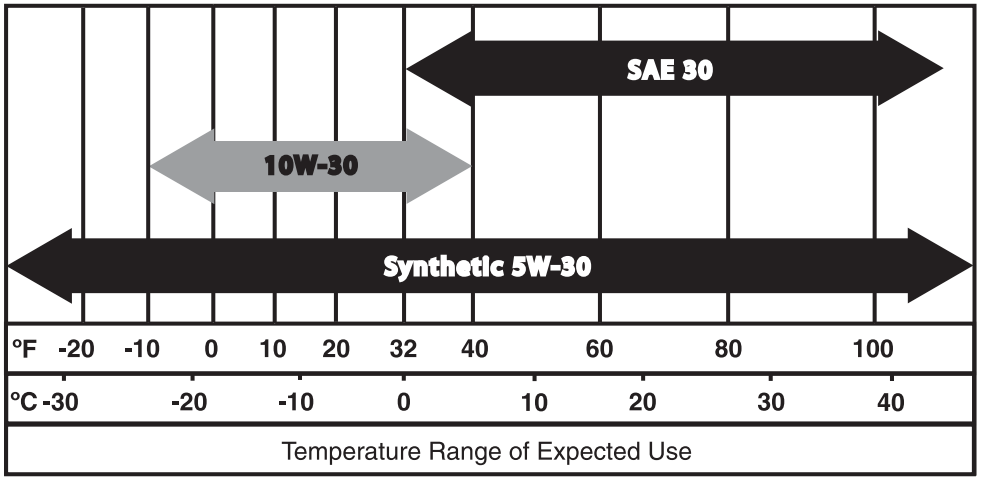 Learn About Your Engine Type
While Most Generators have four-stroke engines, you can find some with two-stroke engines on the market.
These two types of engines use fuel and oil differently and require different types of oil.
In a four-stroke engine, you add oil and fuel separately, just like with cars. However, with a two-stroke engine, you can buy a pre-mixed container of fuel and oil. You can also determine which ratio to use and pre-mix the fuel and oil at home.
Look up which oils work best if you have a two-stroke engine. You should use four-stroke and two-stroke oils sparingly.
Reliable Oils Equal Longer Generator Life
Buying cheap engine oil seems like a short-term money-saver, but the long-term effects are more expensive.
Cheap oils can lead to your generator breaking down sooner than expected, which is a much more costly repair or replacement than the price differences between some oil brands.
Quality oils are the ones you regularly see advertised and include brands like Castrol, Honda, Shell, Pennzoil, and Generac, to name a few.
These oils enjoy the respected status in the market because they have achieved time-tested results and invested millions of dollars into research and development to create the best products possible.
The wait is over. Let's have a look at the best generator oils on the market.
---
Top Picks for Best Generator Oil
Investing time in researching the ideal generator oil is crucial. Still, to simplify your search, we've curated a list of top choices catering to various needs, ensuring your generator operates efficiently and effectively.
Honda Power Equipment oil has to be at, or rank near, the top of any honest list of generator oils.
Honda specifically designs this oil for equipment with four-stroke engines, such as generators or lawnmowers.
The price for a 1-quart bottle is reasonable, but on Amazon, you can buy a bundle that works out to a cost of $0.19 per fl.oz., which is in line with other well-priced oils.
You will not regret buying in bulk because this oil keeps motors running smoothly and improves equipment life.
These days, many oils on the market are synthetic, but Honda deviates from the pack with this power equipment oil.
You can expect quick lubrication that exceeds the API SN standards the oil meets.
API stands for the American Petroleum Institute.
The SN category means this oil protects pistons from deposits at high temperatures, controls sludge better, improves seals, and is after-treatment compatible.
The efficiency this oil offers also improves engine performance and reduces fuel consumption. Many people shy away from this oil because they get sticker shock at the price per quart.
Look for a bargain like the one mentioned above, and you can get the price down to the average for most synthetic oils. You will be glad you did.
---
Castrol provides a great product at a reasonable price with Edge synthetic motor oil. One of the things you immediately notice when shopping for motor oil is that prices vary greatly. Still, many brands offer great products regardless of price.
The specialty that Castrol Edge brings to the table is that this oil works well under high pressure. While the pressure rating might be more applicable to an automobile, you can have that much more confidence that the lubrication of your generator is in good hands.
Edge also offers excellent performance at high temperatures if you need to run your generator for an extended period on a hot summer day.
The moving parts of your generator will experience little friction, even as temperatures keep rising.
Around the world, there are other standards like the API SN, such as ACEA A1/B1, ILSAC GF-5, and A5/B5. Edge meets all these standards, so this motor oil is prevalent in the consumer market.
Castrol included fluid titanium technology in the design of this oil which is mainly responsible for the outstanding performance at high pressures and temperatures.
You can go right with Edge as long as this oil is a match for the type of generator you have.
---
As you can tell from the title, Shell Rotella is a synthetic blend that works best in diesel engines.
Coming from a company like Shell, many people are familiar with the brand, and you should be able to buy a bottle almost anywhere.
Diesel engine oils have to be able to withstand higher heat. Rotella protects diesel engines that require viscosity ratings of API CK-4, CJ-4, CI-4, CI-4 Plus, or CH-4.
Different types of Rotella oils have different "T" ratings, such as T5 and T6. Many people feel that the T5 works the best for most purposes, so this choice is probably a good idea for a generator.
The highly competitive price may be the best value among high-quality oils. If you spend some time bargain-hunting, you should be able to buy Rotella for $0.15 per fl. oz. You have to buy the 15W-40 to take advantage of this low price.
The Triple Protection Plus technology uses a unique synthetic blend with advanced additives to withstand extra stress and protect against wear, deposits, and oil breakdown.
Improved oxidation protection is another benefit, along with extended drain capabilities.
---
Generac full synthetic motor oil comes with a sticker shock compared to other synthetic motor oils.
Many of the first options come at a whopping $0.44 per fl. oz.
With some shopping for bundles, you can reduce that price to $0.36 per fl.oz., but that cost is still a pricey bottle of oil.
As seen earlier, SN means the oil has extra protective qualities against extreme stress and heat in modern engines. For the price you pay, you do get a product of exceptional quality if you want to get the most extended life out of your generator.
Since this oil is an SAE 5W-30, you get better performance and protection in cold climates. 5W should offer good protection down to temperatures as low as -20°F. Motor oils that protect at temperatures that low cover the majority of the northern states in the US.
The two main engine problems that Generac claims this oil protects against are the formation of sludge and varnish deposits. They included advanced additives in the synthetic mixture that offer maximum protection against viscosity breakdown.
Lastly, the protection exceeds the SN requirement, which is partly responsible for the high price.
---
Husqvarna XP+ is another entry that comes with some sticker shock. You can search for the best bundle prices in a single bottle or 1-gallon containers, but you will need help getting the price below $0.43 per fl. oz.
The high price is only part of the story.
This two-stroke oil comes in small bottles that mix at a ratio of one bottle per 5-gallon volume of gasoline.
Engines like motorbikes and generators with two-stroke engines may hold around one gallon in the tank, so the Husqvarna oil adds a small cost to the gas price.
On the technical end, this two-stroke oil meets the specifications to receive a JASO FD rating. These standards come from Japan, where their former rating still allowed for too much smoke and exhaust blocking. The FD rating is currently the highest.
The generator industry has switched to four-stroke engines. However, some people still use old generators, and this Husqvarna oil should meet all their needs.
This company has decades of experience making small two-stroke engine machines and tools. They also understand how to make the best oil.
Low temperatures should not pose a problem due to a fuel stabilizer that results in low smoke.
---
If you study the per fl. oz. costs of various oils, you may find that the Briggs & Stratton oil is pricey. After searching for bundled offers, you can get the price down to about $0.33 per fl. oz.
While this cost may seem high, initially, small engines need less oil for proper lubrication. You may pour in a small amount of oil, store the bottle, and forget what you paid.
Briggs & Stratton designed this oil specifically for their generators, but you should be fine if you have any generator that does well with SAE 5W-30 oil. This generator oil type meets the SJ standard, which is current but a bit older.
The properties of this synthetic oil handle the stresses of small, air-cooled engines in tools and generators particularly well.
This oil works well in all seasons, particularly in cold weather, by quickly flowing to and lubricating moving parts. This oil will perform well if you have operating temperatures for your generator below 32°F.
Briggs & Stratton also designed this oil to work interchangeably between gas-powered and diesel engines. If the oil can handle the stresses of diesel, your gas-powered engine will be in good hands.
---
Valvoline Advanced has to make a list because this oil does four things well—protection from heat, wear, friction, and deposits.
This oil contains extra detergents and dispersants that help flush out sludge and prevent deposits and grime from building up again. The protection remains effective, and friction does not happen, even under harsh driving conditions.
The next great benefit is that most people consider this oil cheap or affordable at $0.17 per fl. oz.
You can buy a five-quart container for slightly more than the one-quart price of some expensive brands.
Some people find that since this Valvoline oil removes sludge, a couple of extra oil changes to flush the system work well.
Extra oil changes are affordable at the price point, and you can use this cheap oil indefinitely.
Valvoline Advanced proves this product is one of the best generator oils. In the Sequence IVB Engine Test, designed to see how an engine performs under stress, this oil gave 40% better wear protection than the industry standard.
Valvoline proudly manufactures this oil in the US to meet every significant standard. These standards include GM Dexos 1 Gen 3, API SP, API SN with SN PLUS, and ILSAC GF-6A.
---
Pennzoil Ultra Platinum takes an interesting approach to synthetic motor oil. Instead of starting with crude, they began manufacturing with natural gas and were the first to do so.
They use patented PurePlus technology to make the process work. The result is that this oil offers excellent protection in terms of wear, protection in extreme temperatures, better fuel economy, horsepower protection, cleaner pistons, and extreme performance.
Pennzoil Ultra Platinum meets or exceeds ILSAC GF-6A, API SP, and every standard that preceded these two. Pennzoil claims this oil exceeds ACEA A1/B1 standards.
Since the ACEA C5 made the former obsolete, this oil may not meet C5 standards, but Pennzoil must clarify its claim.
You can get this oil in a five-quart container for about $0.20 per fl. oz. People on a budget will appreciate all the excellent protection at an affordable price.
The sludge protection is also excellent. The Sequence VH Engine Test report indicated that this oil keeps engines almost factory clean.
Generator owners in cold climates will be happy to know that this oil lubricates well down to -20°F. All of these properties allow engines to run more efficiently.
More efficiency leads to longer life, so you cannot go wrong with Pennzoil.
---
Mobil 1 is the official oil of Nascar, so your generator cannot put much stress on this product.
History buffs might know that the origins of Mobil 1 date back to the breakup of Standard Oil in 1911. By 1999 the company was ExxonMobil.
Being such a large company, Mobil 1 has found a way to bring a high-quality product to market at only $0.18 per fl. oz. Such a low price point is one of the best deals you will find online. You might have to look around for such a low price, but the deals are out there.
Mobil 1 uses its Triple Action+ Formula to protect critical engine parts for up to 20,000 miles. Such high-level protection meets ILSAC GF-6 standards while keeping your engine clean and improving fuel economy.
SAE 5W-30 means that this synthetic oil will offer good lubrication to prevent wear at various temperatures for multiple climates, from extreme freezing to hot summers.
You can save space by purchasing this oil for your portable generator and vehicle, even if you have a high-performance automobile producing immense heat.
---
This top-quality generator oil offers superior performance and protection for your engine.
It is formulated using advanced synthetic base oils and additive technology to provide optimal engine protection and durability.
The oil boasts a 5w-30 viscosity rating, which ensures it flows smoothly at low temperatures, providing robust cold-weather protection. This feature is particularly vital for diesel generators in colder regions, as it guarantees smooth engine startup, even in frigid weather conditions.
Thanks to its advanced friction modifiers, Schaeffer Manufacturing 9003D-012S is highly effective at providing robust protection against wear, scuffing, and abrasion.
The oil's unique blend reduces friction and wear, significantly extending the engine's lifespan.
Additionally, it keeps your engine cleaner by minimizing the formation of sludge, soot, and carbon buildup. This feature ensures that your engine maintains optimal performance levels, prolonging its lifespan.
Nonetheless, it is worth noting that Schaeffer Manufacturing Co. 9003D-012S Supreme 9000 Full Synthetic is only available in a smaller package size of 12 fluid ounces. Therefore, more is needed for larger generator engines, necessitating the purchase of additional oil.
---
Conclusion
Choosing the best generator oil is crucial for maintaining peak performance and extending the lifespan of your equipment.
By understanding the different oil types, temperature ranges, and engine compatibility factors, you can make an informed decision to keep your generator running smoothly.
Our comprehensive guide, complete with top picks and in-depth reviews, provides all the information you need to choose the right oil for your specific needs.
Keep your generator in top shape, and let it power your life with confidence and reliability.
For more survival preparedness, read our Prepping List.