Why consider purchasing a generator?
When you lose power, you need to regain access quickly. Whether a job site, an apartment, your home, or any other location with an electrical supply, a generator can restore temporary service in a matter of minutes.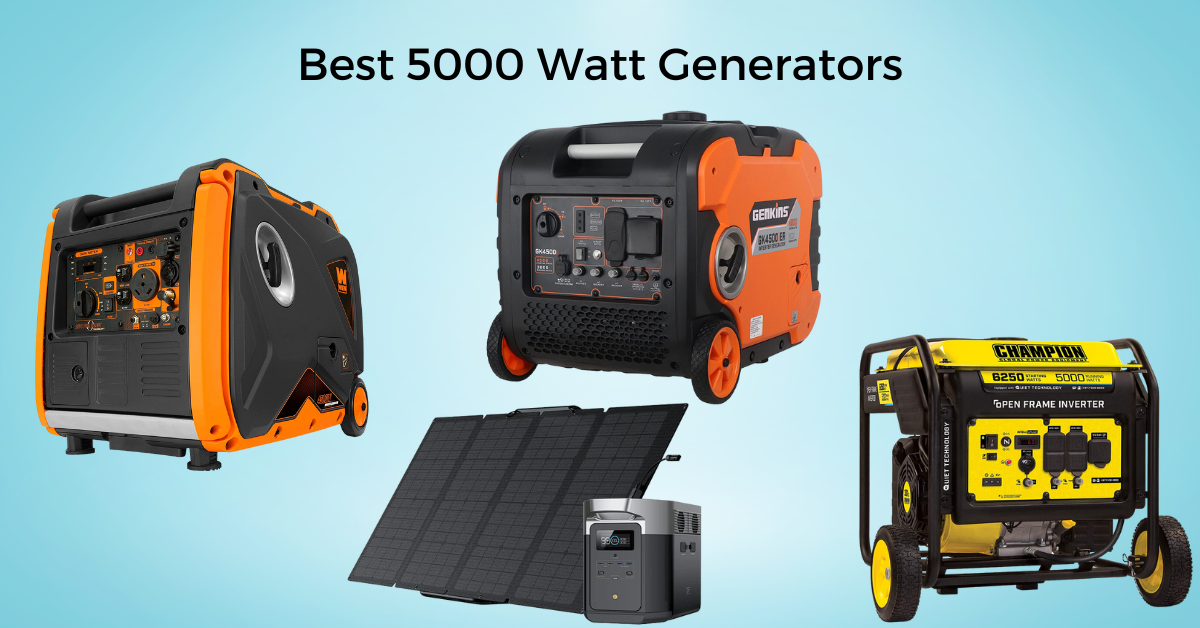 Living off the grid is becoming a popular option in today's world.
However, a 5000W generator is useful for many applications regardless of your needs.
We've compiled a list of the best 5000 Watt generators for various uses, including inverters and traditional generators.
Features To Consider
Before purchasing a generator, inverter, or traditional power source, it is crucial to evaluate their fundamental components carefully.
Power Output
To find the right generator size for your needs, you need to consider its power output, which is measured in watts or kilowatts.
You can calculate this by multiplying volts by amps.
For instance, a 5kW generator that produces 120 volts can supply 41.67 amps of power.
Portability
Will the generator be stationary, staying mainly in one location, or will the ability to move it easily be a valuable consideration? A generator with a wheeled frame is most suitable for mobility purposes.
Noise Level
5000-watt generators will range in noise level depending on the load capacity.
A lower load capacity will be as noisy as a copy machine in an office setting.
A higher load capacity is as loud as a vacuum cleaner running beside your chair.
Cost
Cost factors for a 5000W generator range from several hundred dollars to thousands of dollars.
Solar generators have a higher cost than most generators. For example, their budget-friendlier gas counterparts.
Consider the generator's long-range usage, goals, and purpose rather than just the price point.
Read on to find reviews of each individual:
Our Best 5000 Watt Generators Reviewed
You'll find the most important information in our reviews.
Nobody wants to be caught unprepared in an emergency.
Many people, especially those in high-risk weather areas, have a generator stored in the garage or storage shed. A basic traditional generator is best suited for those customers that want to be ready.
The Green-Power America GPD is a 5000w gasoline-powered generator suitable for emergency backup or outdoor events such as camping or backyard gatherings.
With an average of 4.4 stars, customers mention the value of this portable generator as a number one factor in purchasing.
The generator is lightweight and compact, weighing only 109 pounds. The unit is housed in a 2-wheel frame with solid, never-flat wheels for easy portability.
Equipped with a manual recoil start, the 4-cycle, 7.5Hp engine supports an 11-hour runtime using a 50% load.
The single-phase generator has a 4-gallon fuel tank, a fuel shut-off with an internal fuel filter, and a low oil shut-off.
For outlets, there is (1) 12V AC outlet, (2) 120V outlets, (1) 120V twist-lock, and (1) 120V/240V twist lock.
Note that this generator has a higher noise level than more expensive options on the market. At 100% load, a maximum level of 76bBA is reached and is comparable to the noise level of an out-of-balance washing machine.
Why Is the Green-Power America GPD Generator Our Top Basic Pick?
The Green-Power GPD Generator is our top choice for a backup generator without bells and whistles but with high portability, price point, and reliability marks.
An 11-hour runtime at 50% load supplied enough power to keep you running during power outages when you need it most.
---
This Powerful Solar Generator can charge rapidly, with up to 800W of solar input. The portable generator can be fully charged in just 11.5-23 hours using a single 220W panel, making it ideal for power outage situations.
With a large capacity of 2016Wh, the DELTA Max can be used as an outdoor generator or as an indoor backup power source, providing hours of continuous power to your appliances.
Its clean, green, and quiet operation makes it an excellent alternative to traditional gas generators, with no fumes, noise, or portability issues.
Thanks to X-Boost technology, this solar generator can power almost any home appliance or device with an output of up to 3400W.
It's perfect for power outages, camping trips, or RV adventures.
The generator also offers smart app control, allowing you to monitor and control your portable power station from a distance.
The package includes the DELTA Max (2000) Power Station, EcoFlow 220W Solar Panel, user manual, DC 5521 to DC 5525 cable, solar charging cable, AC charging cable, and car charging cable.
The DELTA Max and 220W Bifacial Portable Solar Panel will be shipped separately.
Why Is the EF Ecoflow Delta Max a Good Choice?
Overall, the EF ECOFLOW DELTA Max (2000) 2016Wh Solar Generator with 220W Solar Panel is an excellent investment for those seeking an off-grid power solution or a reliable backup power source.
It will also fit for your apartment. But for generators in apartments we do have some more ideal choices for you – check out here.
Its rapid charging capability, large capacity, and compatibility with various devices make it the ideal choice for outdoor enthusiasts and homeowners alike.
---
If living off the grid or moving away from commercial energy suppliers is something you aspire to do, the ECO-WORTHY 18.7KWH 4800W 48V Solar Power Complete Kit is an excellent choice for a small home, shed, or barn usage.
While just shy of 5000W, this solar-powered generator is wholly charged with only four hours of full sun and provides 18.7KWH of power daily. With a full charge, the power is sufficient to run almost any AC 100V appliance, such as a water heater, television, refrigerator, microwave, and window air conditioning unit daily.
The waterproof solar panels, designed with an aluminum frame and tempered glass, withstand extended outdoor installation and weather conditions.
The IP65 panels withstand winds up to 2400Pa and a snow load of 5400Pa.
The kit ships with a 4-string combiner box, a 5000W 48V hybrid solar charger inverter, an 80A MPPT controller, (24) 195W solar panels, and a z-bracket.
When the weather is cloudy, the battery can be charged from the grid.
A 1-year warranty and unlimited after-sales support are included with each kit.
Why Is the Eco-Worthy 4800 a Good Choice?
The solar panel-powered generator kit provides enough power to supply a small home's daily power requirements, eliminating the need for commercial power sources.
While time-consuming and potentially tricky to install, the system is expandable by connecting additional panels and batteries to grow as your power needs grow.
---
For construction sites, higher requirements in a larger off-the-grid home or natural disaster emergencies.
The Honda EB5000X3 Generator is a solid gas-powered unit. This Honda generator is equipped with a 6.2-gallon tank.
With a 7000-watt output, the generator offers a runtime ranging from 8 hours at full load to 11 hours at half load.
Honda's iAVR (intelligent automatic voltage regulation) eliminates power fluctuations by using a consistent power flow to protect sensitive electronic devices such as laptops and cell phones.
The iAVR also capably handles the 10-second start time for high initial amp drawing equipment such as power tools or air conditioning units.
Equipped with an iGX series engine, controls are simpler and faster to use, and optional performance is ensured.
The 120/240V selector switch enables users to use 120v and 240v equipment or select 120v only for units requiring larger wattage.
Meeting all OSHA requirements, the Honda EB500X3 is a prime solution for worksite applications or residential installation.
A full 3-year warranty is included with the generator.
Why Is the Honda EB5000X3 Generator Our Top Commercial Pick?
This Honda generator, compliant with OSHA standards, is highly reliable. It is ideal for construction worksites where commercial-grade power equipment is in use, particularly when higher voltage is needed during the initial startup.
The larger fuel tank size also provides a longer runtime to last an entire workday.
In addition, a full three-year limited warranty provides peace of mind.
---
The Westinghouse 6600 Peak Watt generator is rated 5 stars for ease of assembly by consumers.
The overall rating is 4.6 stars from over 2,000 reviews for value, noise, tech support, and maneuverability.
This unit is viable for emergencies, RV use, or camping needs.
Working at 5500 running watts and 6600 peak watts, the generator is equipped with a 120/240V selector switch and a 4.7-gallon fuel tank to provide up to 13.5 hours of runtime.
The push button electric start can be activated via a remote key fob, which is also included.
Constructed with rubber-covered outlets, the generator has (1) 5–20R 120V household duplex receptacle, (1) RV-Ready TT-30R 30 Amp receptacle, and (1) transfer switch-ready L14-30R 30 Amp receptacle.
The generator is ready to use out of the box and is packaged with oil, an oil funnel, a wheel kit, a user manual, and a tool kit.
Customer ratings include comments regarding the minimal assembly.
To increase mobility, a wheel kit can be purchased separately.
The manufacturer warranty is a 3-year limited service, labor, and parts coverage with a customer service network available nationwide.
Why Is the Westinghouse 6600 Generator Our Top Residential Backup Pick?
Made to be ready to go when pulled from storage, the Westinghouse 6600 is a durable unit manufactured with a compact, hardened steel frame, requiring minimal assembly.
The electric start is backed up with an emergency manual recoil system so that you won't be frustrated by a useless generator.
This Westinghouse generator is a solid choice for emergencies or RV power needs at an affordable price point.
---

Rated an average of 4.5 stars from over 1200 ratings, the DuroMax XP5500HX Generator can use gasoline or propane for even more flexibility for your needs.
The electric start, 4-cycle engine generator weighs 131 pounds and is mounted in a 2-wheeled frame to make moving the unit easier.
Equipped with a digital multimeter, the display shows the voltage meter, frequency, total run hours, hours until recommended maintenance, and voltage.
DuroMax's exclusive MX2 switch combines (2) 19-amp circuits into one 38-amp circuit for maximum power.
The CO Alert system will automatically test the immediate area and shut the generator down if unsafe levels of carbon monoxide are detected.
The power panel includes two 120V GFCI household outlets and one 120/240V 30AMP twist lock outlet.
Made with all copper windings, the DuraMax is made to last for years, but a break-in cycle is outlined and recommended.
A five-year manufacturer warranty is included with the generator.
Why Is the DuroMax XP5500HX Generator Our Top Dual Fuel Residential Pick?
After removing the shipping braces, the DuraMax X5500HX's 210cc engine features a push-button electric start and a patented MX2 switch. This provides sufficient power for household appliances during emergencies, as well as for tailgating events, camping, or RV use.
Dual fuel sources make this generator an excellent choice for flexibility.
---
The Champion Power 100519 takes the spot for low noise. Designed with an advanced open-frame inverter, the Quiet Technology maintains a noise level of 69 dBA at 20 feet.
For comparison, 69dBA is roughly as loud as a hair dryer or normal conversation.
The Champion generator offers a clean power and an economy mode, allowing you to connect sensitive electronics while saving fuel.
Runtime is approximately 12.5 hours on gasoline with a 4.2-gallon fuel tank.
For cold climates, the Cold Start Technology guarantees a quick generator startup even in frigid temperatures.
There are (2) 120V AC 20Amp GFCI outlets, a 120/240V AC 30Amp locking outlet, and multiple USB ports to keep your home up and running.
In addition to a 3-year warranty and free lifetime technical support, the generator ships with battery charging cables, a USB adapter, a flexible oil funnel, a wheel kit, and the 5250 Watt inverter.
Why Is the Champion 100519 Generator Our Top Low Noise Pick?
The Champion 100519 Generator ships fully assembled and is EPA-certified and CARB-compliant.
A perfect choice for consumers looking for a quietly running generator with noise levels equivalent to a common household hair dryer or dinner conversation.
With the choice of economy, clean, and standard running modes, users have plenty of options depending on their power needs.
---
The Pulsar 5250W Dual Fuel Portable Generator fits the bill for portability.
Rated an average of 4.3 stars from over 200 consumers, the top comments include ease of use and durability. Weighing only 115 pounds, the 2-wheel frame housing the generator assists with easy maneuverability.
The Pulsar PG5250 is designed with "Switch and Go" technology, enabling the user to easily switch from gas to propane by simply turning a dial.
The single-cylinder, 224cc, 8hp engine is equipped with (2) 120V outlets, (1) 30Amp RV outlet, and (1) 120/240V twist lock outlet.
Using the 4-gallon fuel tank, a runtime of up to twelve hours is possible at 50% load.
Propane may see roughly the same runtime, depending on tank size.
An automatic low oil indicator and automatic low oil shut-off prevent overheating and engine lockup.
A propane hose is included with the generator, and a one-year limited warranty backs all equipment.
Why Is the Pulsar 5250 Generator Our Top Portable Pick?
Weighing only 115 pounds, this generator is compact and designed with a 2-wheel frame making it our top choice for portability.
The Pulsar 5250 is ideal as a backup generator in case of emergencies, tailgating, or camping trips.
A trickle charger is recommended to keep the battery at peak levels when in storage.
---
Not all generators are for emergency use, and the GENKINS GK4500i portable inverter generator makes camping and RV life a breeze.
Not quite a 5000W generator, this unit offers a full 4500 peak watt / 3800 Running Watt Pure Sine Wave Clean Power to light up an RV or camper, run air conditioning, a microwave, dishwasher, or range on the go.
Weighing in at only 92 pounds, this generator is shipped with a handle and wheel kit for easy mobility when and where you need it.
The hearty 223cc engine is gasoline-powered, and at a 50% load, the 2.64-gallon tanks provide approximately eight hours of runtime.
Don't worry about the generator annoying your campground neighbors, either. With a noise level of 56-63dBA, this unit is extremely quiet compared to a vacuum cleaning used in the next room.
An auto shut-off is designed to eliminate the need to turn off the generator when low on oil manually.
The generator ships with a wheel kit and handle and comes with a 2-year manufacturer-limited warranty.
Why Is the Genkins 4500i Generator Our Top RV Pick?
When planning an RV trip, you should focus on something other than finding campgrounds with the most power hook-up sites and electricity availability.
Take this portable, lightweight Genkins 4500W Generator with you and travel comfortably wherever your adventures take you.
Powerful enough to run AC while cooking, this generator is our top pick for your RV.
---
The WEN DF451i Super Quiet 4500-Watt Electric Start Dual Fuel RV-Ready Portable Inverter Generator with Fuel Shut-off is a top-rated unit with an average of 4.7 stars for noise level, maneuverability, and portability.
Super Quiet 4500-Watt Electric Start Dual Fuel RV-Ready Portable Inverter Generator with Fuel Shut-off is a top-rated unit with an average of 4.7 stars for noise level, maneuverability, and portability.
Just shy of 5000W, this generator is a dual-fuel design capable of running off of propane or gasoline.
An automatic fuel selection system automatically switches between available fuel sources for longer runtimes.
Manufactured with a 212cc engine, it is extremely quiet.
Customer reviews state that it is no louder than a window air conditioning unit when running at full load.
This generator is designed with a keyless electric start and a backup recoil. With a manual starter, the generator is always ready to work when needed.
Easy to assemble, the unit ships complete with onboard wheels and a handle for easy portability.
At a weight of only 100 pounds, the generator is easy to load into RV storage wells, pickup trucks, and even SUVs. The compact size adds to the portability and maneuverability of the unit.
The manufacturer supplies a 3-year limited warranty.
Why Is the WEN DF451i Generator Our Top Dual Fuel Inverter Pick?
The Wen DF451i has an extended runtime of up to 8.5 hours at 50% load for gasoline or 9 hours at 50% load on a 20-pound LPG tank.
Designed to switch between fuel sources automatically.
You can run the generator overnight without needing to refuel.
The economy mode switch automatically adjusts as devices are plugged and unplugged, preventing unnecessary gasoline usage from keeping you running when you need it.
All of these features make it our top pick for a dual-fuel inverter generator.
---
The ability to use propane or gasoline is an option that provides more choices when living the RV life or traveling.
The DuroStar DS4850EH generator fits the bill for dual fuel with enough power output to run a refrigerator, air conditioning, or even high-amperage power tools.
The 208cc, 7HP engine operates at a starting wattage of 4,850W and 3,850 running watts.
The DuroStar DS4850EH is engineered with MX2 technology, providing maximum power when using only 120V outlets.
Users can also elect to run 120 and 240V simultaneously when needed, making this model an excellent choice for RV or camping use.
Integrated CO sensors warn of dangerous air quality and automatically shut down the generator if dangerous levels are detected.
The power panel has (2) 120V GFCI, household outlets, one 120/240V 30Amp twist-lock outlet, and a voltmeter. 12V DC charging posts enable the charging of external batteries for even more flexibility advantages.
Equipped with an easy electric start or manual pull start when needed.
A 3.9-gallon fuel tank provides over 8 hours of power at 50% load. The generator ships with a wheel kit to ease moving the 122-pound system.
This generator is manufactured with all copper windings and is built to withstand constant usage.
A 3-year limited manufacturer warranty is also provided.
Why Is the DuroStar DS4850EH Generator Our Top Dual Fuel RV Pick?
This RV-ready DuroStar Generator is our top pick for dual-fuel RV usage. The easy electric start provides quick power. With the ability to use both gasoline and propane, this generator will power your RV for up to 10 hours at 50% load.
The 201cc, 7HP engine can handle AC on hot summer trips to keep you and your family cool and comfortable.
---
Uses For A 5000W Generator
A 5000-watt generator can be used for a variety of things, including:
Powering your home during a power outage: If you lose power during a storm or other emergency, a 5000-watt generator can provide enough power to keep your essential appliances running, such as your refrigerator, furnace, and lights.
Camping: A 5000-watt generator can provide power for your camping trip, so you can enjoy your home's comforts, even when you're off the grid.
Job sites: A 5000-watt generator can be a lifesaver on a job site, providing power for tools and equipment.
Outdoor events: If you're planning an outdoor event, a 5000-watt generator can provide power for music, lights, and other amenities.
Tips To Remember When Using a Generator
Here are some additional things to keep in mind when using a 5000-watt generator:
Never operate a generator indoors in a closed setting. Generators produce fumes that can be harmful to your health. It is essential always to run a generator outdoors or even in a garage.
If you operate the generator in an area such as a garage, ensure the generator is properly ventilated. Generators can produce carbon monoxide, which is a deadly gas. Ensuring the generator is properly ventilated is important to prevent carbon monoxide poisoning.
Be aware of the noise level. Generators can be noisy, so it is essential to be aware of the noise level before you use one.
Power output: The power output of a generator is measured in watts. The higher the wattage, the more power the generator can produce. For most people, a 5000w generator will be sufficient for powering basic appliances and tools.
Inverter or Traditional Generator
An inverter generator uses an inverter to convert the Alternating Current (AC) produced by the generator into Direct Current (DC). The DC is then converted back into AC with a more consistent waveform.
Traditional generators use a mechanical alternator to produce AC power, and the power is less consistent than the power produced by an inverter generator.
An inverter generator is quieter and more fuel efficient. Still, it has less power output and is more expensive than a traditional generator.
Conclusion to Our Best 5000 Watt Generators
Be prepared before you need it.
If you want to be prepared for any disaster, check out our Prepping List!
Generators serve multiple power supply purposes, from power outages during natural disasters to living off the grid.
Determining the generator best suited to your situation is a time-consuming process with dozens of options to sort through with features that may or may not be advantageous.
Develop a list of your requirements, how and when you'll use the generators, and compare the options within your budget range.
Our list of the best 5000 watt generators includes models from the basic backup Green-Power America GPD 5000w to the top-rated Honda EB5000X3 Generator. It considers a wide range of uses to enable you to handle almost any portable power needs.